Fall into Efficiency, on Purpose! Discover Dynamics 365 for Talent
September 17, 2018
Posted by:

Brian Ham

Category:

Information Strategies Tips
Do you feel the shift in the air lately? If you are connected to your company's Human Resources department, you realize I'm not just talking about the seasons. With a rapidly developing push towards digital transformation, there comes a growing pressure from both an employee and an organization's overall expectations of the hiring and retention process. The aptitudes and efforts of the people in your organization are among the most valuable assets. Microsoft Dynamics 365 for Talent (Talent) helps fulfill the potential of your workers, while reducing the cost and complexity of administrating worker and organizational information. Talent delivers solutions that are tailored to three key roles within your organization: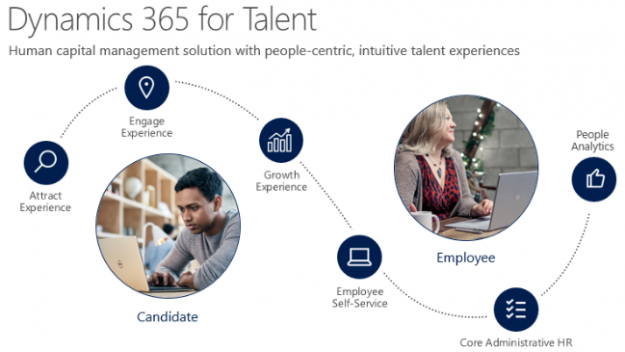 Candidates
o For potential employees, there are two modular apps that deliver functionality to help with everything from job postings, applications, interactive interviewing, hiring and starting a new job within the company: Attract and Onboard.
Employees/Managers
Once an employee is hired, Core HR contains a variety of tools including a self-service portal that helps employees thrive. Other modules include learning courses/training, employee development goals and performance reviews, as well as direct access to eligible benefits, paid time off requests and compensation.
For managers, a comprehensive set of tools for performance management allow you to keep close tabs on your employees to help foster and encourage growth and development.
Human Resources Department
For the HR workers in your organization, Core HR enables a streamlined employee experience from the moment a candidate is brought on board to the time they leave your organization. Movement can be made from a transactional standpoint to a strategic approach, elevating engagement and retention, while building a culture of empowerment.
Attract
Let's face it, the competition for top talent can be fierce. With greater advancements in the digital world, it takes a dedicated effort to stand out against the sea of organizations also looking to hire the right candidates. By utilizing Attract, organizations not only create visibility throughout the hiring process, but the integration with LinkedIn can help with building a compelling employer brand, creating effective job postings, and streamlining the process for finding qualified candidates.
The Attract application facilitates the hiring of individuals by creating candidate profiles, conducting collaborative interviews, and improving the return on investment of your hiring process. As positions are opened in Talent, hiring managers can use Attract to collaborate with their hiring and interview team to determine the best fit for their position. Candidates who have accepted offers will be available within Onboard and Core HR to complete the hiring process.
Onboard
Most people that have started a job with a new company can relate to some level of uncertainty or anxiety. In an ideal world, the onboarding process begins before someone even starts their first day of work. As a new employee, wouldn't you prefer to know that you are walking into an organization that has not only prepared for your arrival, but also put extra thought and effort into ultimately reassuring your employment decision? I think so.
The Onboard application allows companies to set their employees up for success by bringing together a collaboration between hiring managers and HR. The result is a new hire checklist consisting of activities to be completed or documentation to be reviewed. These customizable onboarding guides start with a welcoming and personalized introduction before leading the new hire into due-date assigned activities with instructional guidance. A great feature of the checklist is to connect the new hire to a mentor, or to someone else currently employed within the company that could provide assistance if needed. Activities can have documents, websites, videos and maps directly connected to them, or, there is also a separate section within the guide where these pieces can be added.
Core HR
I don't know about you, but I often wonder why some companies don't offer perks for their longtime customers. It's typically all about the deals for new clients only! Sometimes, the same concept can apply to an employment situation – there is a strong focus on bringing in new talent, and not necessarily on retaining the exceptional staff in house. While I agree that there should be a compelling recruiting experience, I also think efforts should be made to foster employee engagement, increase job satisfaction and strengthen retention rates.
Talent offers a single, easy to maneuver solution for current employees to view and update their personal information, as well as review any items that have been assigned to them. Employees can view or sign up for upcoming learning courses, include earned certificates, keep track of their accomplishments to attach to performance reviews, and add new skills and goals. Notifications can be assigned to specific tasks or workflows to help with ease of use. Many self-service options are purposely employee driven so that your HR team can focus more on strategy, compliance and improving business processes. Each area in Core HR has its own set of reports containing data visualizations that allow HR personnel to gain a deeper understanding of their human capital.
Talent is quickly leading the way in delivering a better way to manage human resources experiences across the entire employment journey. This cloud-based Software as a Service (SaaS) human capital management solution helps organizations strategically attain, empower, and optimize their talent to achieve high impact and sustainable results. By utilizing Talent, organizations are able to provide potential employees with an experience that is less "one size fits all" and is more personalized and engaging. So the question is, what do you have to lose by choosing Talent, other than wasted time?